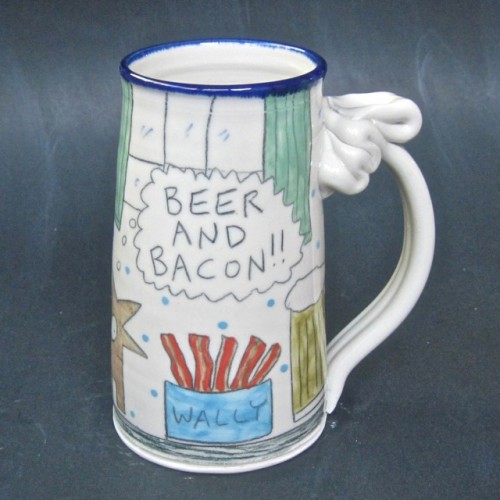 Hooray!  The last firing of the year is roaring away today and I'm finishing off the toughest holiday season ever here at Wallyworld.  It's crazy to think that just three months ago I was waylaid by a broken arm and major surgery on my right shoulder. Since then I've managed to throw over a thousand pots and my business is basically back to normal.  I've still got a lot of physical therapy and rehab to do before my arm gets back to where it was before the accident, but all things considered I'm doing really well.
That said, you should really do some last-minute gift shopping over at my online store!  When the kiln rolls out on Tuesday morning, we'll have an excellent selection of a lot of our top-selling items.  Since I can't guarantee that everything in my online store is in stock, it might be prudent for you to email me about the availability of specific items.  Generally speaking, the items at the front of each department are the pots we currently have in stock and ready to ship (maybe!). Here's a list of some great pots that are still available as of right now:
The deluxe cat bowl series was a big hit this year and we've got over a dozen of them in the kiln. There are four designs: psycho killer, bad cat, happy cat and wild cat.  They sell for just $29.00 each in my online store.
There's a great selection of couple dozen Wally mug designs coming out of the kiln on Tuesday, so take a look at this section of my online store if you are looking to give fun mugs as gifts this year.  Seen above: "Wally is diagnosed with a clinical case of caffeine dependency thus enabling him to park in the handicapped spaces at Starbucks", "Wally wanders into Jackson Pollock's studio" and "Wally goes gluten-free. It gives him a host of super powers which can all be crippled by a single chocolate chip cookie."
Funny bowls are always a great gift and we've got the majority of our top sellers in stock right now.  Seen above: "Holy Guacamole", "Now it is time to tell you, there was LSD in the dip." and "The pass it on party bowl".  Some of our funny bowls are in short supply now, and by Tuesday afternoon we'll definitely be out of the "Jesus is coming" bowls.
Also in excellent supply in this week's firing are a lot of our best-selling funny mugs.  Seen here: "My cat is a psycho killer", "Every Day is Saturday (retirement)", and the world's favorite Tom Edwards mug ever, "Holy Shit!  That's good coffee!" Check 'em out!
Wally's Bargain Basement is chock full of amazing items that are either discontinued or slightly flawed.  The "Wally discovers the true meaning of life" beer stein at the top of this page is slightly warped and on sale for just $16.00.  And I can't believe we still have the "Meth addict vs. giant sand worm" ($14.00) mug still in stock.  While its sales were surely lacking, I still think it's one of the finest mug designs I've ever produced.  Also for sale in extremely limited quantities: the "Wally humps a watermelon" plate ($12.00) and other designs from the classic sexy watermelon series.  We've got some really good slightly flawed items in stock right now, like the "Wally eats salsa and has a religious experience" bowl ($10.00).
Don't forget:
-FREE SHIPPING on all orders over $100.00.
-We'll send you an email order confirmation when we receive your order.  UPS tracking numbers available upon request.
-No-frills holiday gift wrapping is available for just seventy five cents!  Just click this option at check out, put the recipient's name and address in the "Ship To" field and type a nice note to the gift recipient in the "Comments" section.  We'll do the rest!!!!
Last but not least, here's a shot of thirty-six "Electric cars are good for the environment because electricity comes from magic" mugs that are going to a corporate client.  I was really happy to get this order and I think it's a darn good economic indicator.  We had a good year!