I always like rolling out the last firing of the year because it's filled with unusual custom orders and the pots my wife and I give our friends for Christmas.  Over the years we've done some really nice items: corked bottles filled with our family's favorite BBQ curry seasoning, hand-painted tiles, custom house numbers, cobalt blue dip bowls, and more.  This year we came up with my all-time favorite gift: fudge jars!  I had so much fun throwing, trimming and glazing these pots, and the end results were wonderfully successful.  We filled them with homemade fudge and shipped them out the week before Christmas.  The glaze is a traditional iron red called "Ohata Kaki".  It fires best in an oxidation atmosphere at cone 10 or 11 and it's really consistent from firing to firing.  I made a set of dinnerware for us this year and it's such a treat to use.  I'm thinking about doing a whole line of dinnerware next year.  Stay tuned!  Here are some pics of the process: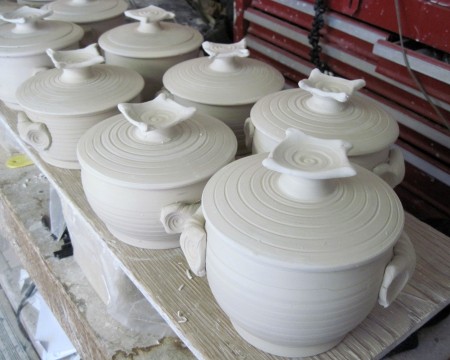 The square knob on the top is thrown after the lid is trimmed.  It was inspired by the square shape of the pieces of fudge.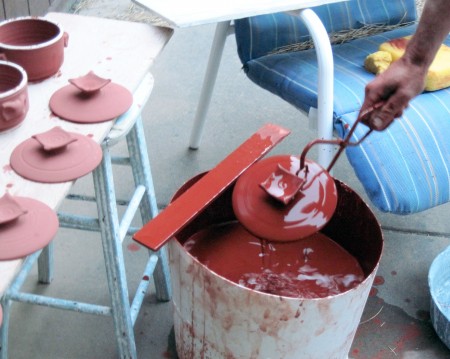 Dipping the pots in the glaze is fun because you can get variations on the glaze surface by controlling the drips of the glaze.  It's done outside because that glaze is as messy as blood.  I have no idea how Dexter cleans up so well after he murders his victims.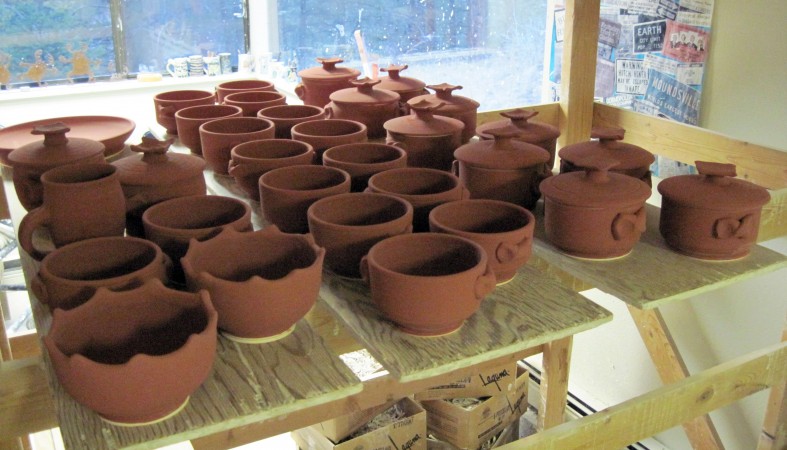 It's so much faster glazing these pots than my hand decorated pots!  The bowls in the center are french onion soup bowls, one of my gifts to Lori this year.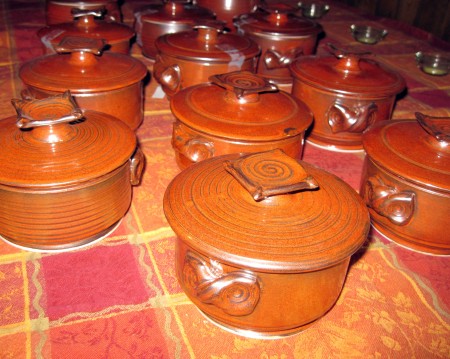 Here's the finished series.  I was kind of rushed the day we got them out of the kiln and would have liked to take more photos.  I'm really excited about the prospect of doing some simple earthy pots next year!