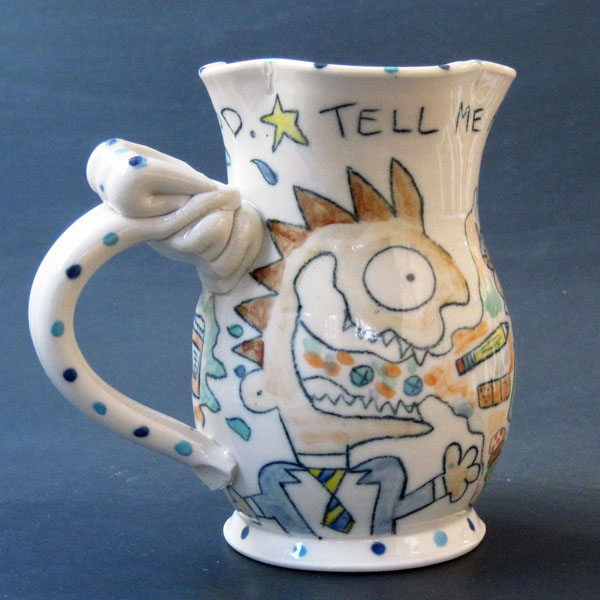 We just rolled out the first firing of the year and I'm really excited about making pots these days.  This week I'm throwing a whole new line of Ohata Kaki Red functional ware and it's wonderfully fun to have a new set of creative issues to deal with.  It's great for me to get back to my roots as a potter and to be making functional pots that focus more on the sculptural and the textural aspects of the clay.  I'm joking that I have this radical new concept to make pottery without words, jokes or cartoons.  Yup, I'm really gonna shock the art world with this stuff!  My family has enjoyed using our set of red dinnerware over the past year and this glaze is an absolute winner: consistent from firing to firing, no technical problems and the color is a wonderfully sensuous treat for the eyes.  After ten months, I'm still totally infatuated with it.
So last year I made some new year's resolutions that are interesting to look back on.  The first was to build this new website.  It's very nice to be able to add new posts with ease and I've noticed that announcing these posts on Facebook leads to increased visits to this site.  It's been rewarding to announce a new design on Facebook and then make a few immediate sales.  My other resolution for 2010 was to develop a line of deluxe funny mugs that pushed my creativity.  The idea was to not worry about the extra time involved producing these items and to just make some really great coffee mugs for my own amusement.  I had this naive belief that if I just made some great pots, the world would beat a path to my door.  Not quite.  But in fifty weeks I created twenty-five new designs that are, in my opinion, some of the best pots I've ever made.  That's the good news.  The bad news is these suckers take way too much time to produce and I feel like I'm shooting myself in the foot time-wise every time I sit down to make these little works of art.  The increased throwing and decoration time isn't worth the extra four dollars (woo-hoo!) that I get for them.  Oh, and they don't even sell that well, either.  Of the twenty-five new designs created, only a third have decent sales, a third have mediocre sales and a third have sold between zero and three units each.  And yet, I still think these are some of the best pots I've ever made.  Go figure.  1/26/11 – I just discontinued  the sixteen least popular designs of this series.  They are now on sale for $24.00 each in my online store!
So my latest offering in this self-flagellating endeavor is, again, something totally brilliant.  "Tell me about your childhood" has a guy regurgitating childhood images out of his mouth and all around the mug.  I love the way the stuff is coming back around to hit him on the back of the head.  What comes around goes around?