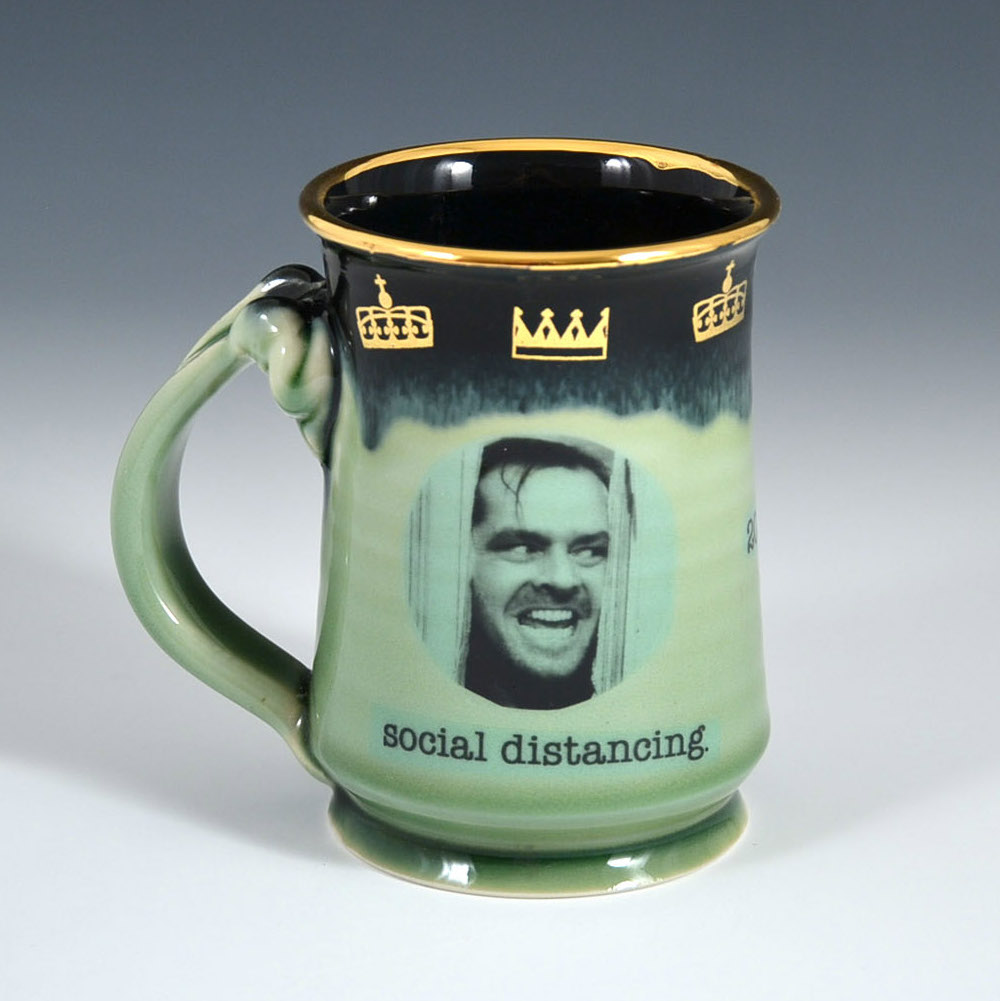 I was driving through Denver today to deliver groceries to my mom and I realized that somewhere in a parallel universe I'm at NCECA in Richmond having a great time. (See my previous post for more info on this) This is such an odd reality we are living in, isn't it? Complaining aside, I'm trying to make the most of things and last week I came up with a really successful decal design for today's times. Seen above is my pick of the litter. These social distancing mugs sold really well in my online store yesterday, and I'll be doing another batch of them next week. Look for a bunch more coming to my online store on Friday, April 3rd. I'm so lucky to have my family and my pots to keep me sane right now.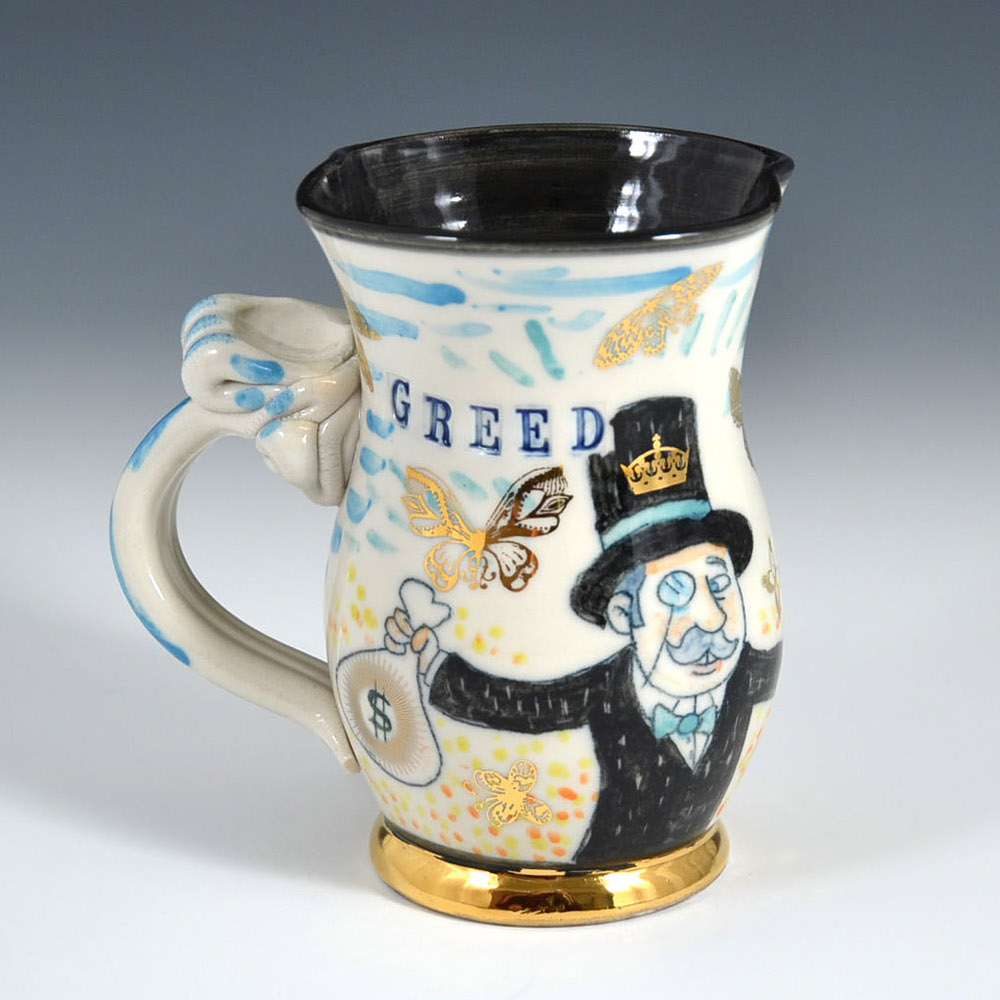 Another fun little project to keep me from running around the house with a hatchet in my hands is my new "Bling it up" series. I've got some great pots that never sold sitting around the studio, so I'm breaking out the gold luster and decals to gussy them up. The story behind this "Greed" mug is pretty cool. Robin's boyfriend from her teenage years was a struggling cartoonist named Noah Van Sciver. He had yet to publish his first book but he was wonderfully dedicated to his craft. When the economy went to hell in 2009 he came over to the studio and we made some pots together. Some sold and some didn't and here we are eleven years later and the economy is going to hell again. But get this: Noah is now a freaking rock star in the cartooning world! He's had dozens of books published! One of them ("Disquiet" a collection of early works) has a forward written by Robin Edwards! Oh, and Noah won the prestigious Ignatz Award! So, yeah, that little mug up there is a real deal and you should buy it (here) so I can embellish more of his old pots because they look really good in gold. Noah gets half the amount of the sale, by the way. Support the arts!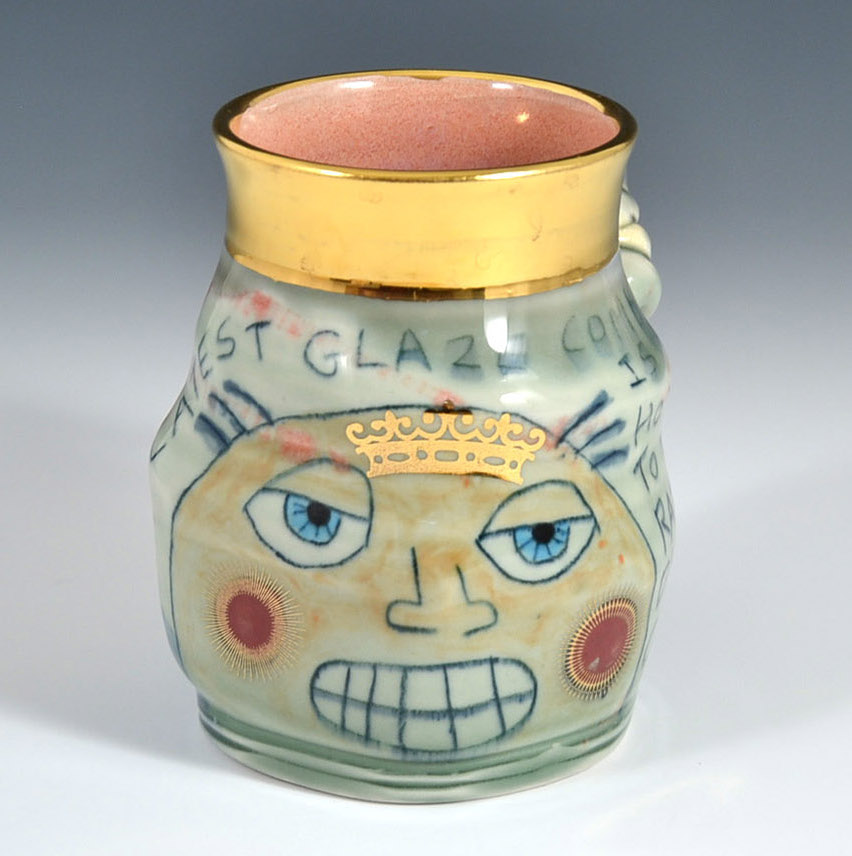 And here's another little lost soul turned into a gorgeous work of art through the magic of gold luster and gold decals. I love the way the cheeks sparkle! You can have it now if you just jump on over to my store!