I spent the past week working on a bold new project: a proposal for a two story tall tall mural to be painted under the intersection of the Santa Monica Freeway and the San Diego Freeway in Los Angeles (seen above). Arts Bridging the Gap, a nonprofit group that works with at risk youth, asked me to do this way back in July, the same week I received my settlement from Tesla Motors. I said "Yes" and worked on it halfheartedly in the fall, but I really didn't make much headway until I took time off from making pots last week to work on it full time on it and get it done. While I feel a bit bad for procrastinating this project for so long, I now know why I had to wait until the slow season to do this. Designing a mural takes a lot of time and effort! My assistant, Christian Hawkins, spent a full three days doing the mockups you see below. This man is a true photoshop wizard and he gets full collaboration credits for coming up with some great ideas for this artwork.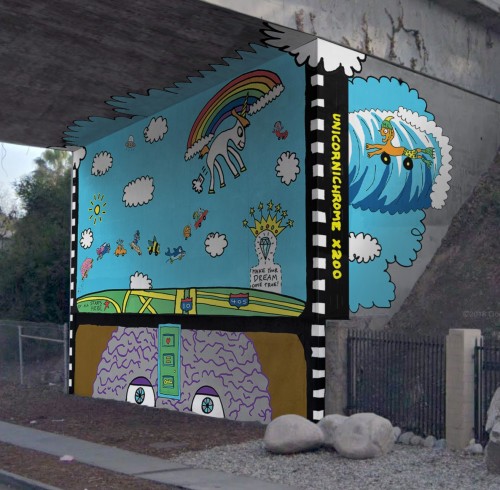 I'm so excited about this project now! I call it, "Make Your Dream Come True." The overall concept for the work is to turn a quiet little spot on Sepulveda Boulevard into a magical space that celebrates people who turn their dreams into realities. The textured wall on the bottom seven feet was a real obstacle, but I solved the problem by making it a brain with eyes. The door in the middle was a bonus and I love the way it looks like a door to the third eye. The car-dream-people are based on 1) some of my cartoon characters, 2) drawings submitted by middle school kids and 3) people in my life who have turned their dreams into realities. The bodysurfer on the north wall is my childhood friend, Mike Cunningham who won six world bodysurfing titles in the 1970s and 80s. The "carmonica" man is my uncle Tommy Morgan, a member of "The Wrecking Crew" and the top studio harmonica player in the world for over four decades. The guitar-girl with a crown on her head is of course, singer-songwriter-twitter warrior: Lisa Prank, a.k.a. Robin Edwards.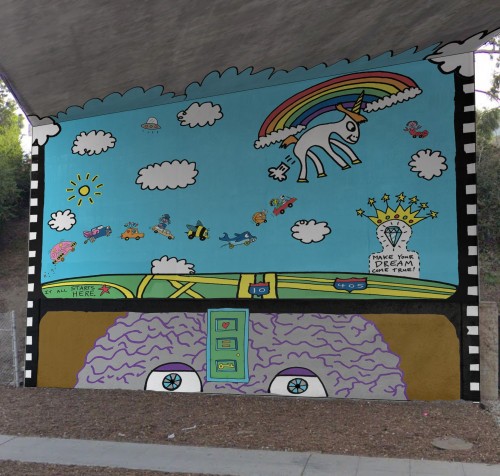 We were originally told that we had the space under the freeway, but when I viewed the site on Google Earth, I realized that it needed to spill out into the outer walls of the offramp so drivers would get a glimpse of it as they approached it. Once this design gets Cal Trans approval (which could take up to a year!), the mural will be painted by a team of kids and cops over the space of a weekend. As I was coming up for the ideas for this artwork, it took me back to my days living in this neighborhood. In 1987 Lori and I bought our first house just four miles from the site, and both of our kids were born in Los Angeles. I can hardly wait to get this mural painted!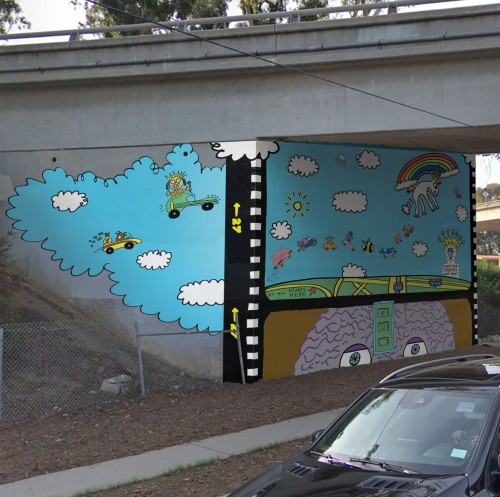 And get this! This isn't the only public art project that I've worked on recently. Last December I was contacted by an outfit known as  The Aeternity Drone Graffiti Project. They asked me if I would like to have my artwork spray painted by drones on buildings in Mexico City and I said, "Yes!" What artist wouldn't want to have flying robots painting their art for them?!!" So I submitted the graphic seen below and I did a couple of interviews via Skype for international news outlets. On February 10th they did the first tests of this bold new technology and the results were interesting.  Next up they will be painting a fifteen story building sometime in April in Mexico City, and I might get the opportunity to go there and see it happen. To see a short video of one of the tests, click this link.