We've got three new Wally designs for your perusal!  Next week, my pots will be on display in the 18 Hands Gallery booth at the NCECA ceramics conference in Providence, Rhode Island. Potters happen to be the best pot collectors, so I came up with some designs about famous potters.  Paul Soldner made phenomenal pots, designed great pottery equipment and had a real flair for advertising.  Most of the ads for his ceramic equipment pictured him semi-nude in some ridiculous setting.  Out in my studio next to my kiln, I have an autographed poster of him in a speedo.  So it's only natural that "Wally visits Paul Soldner's hot tub with its legendary brie cheese extruder." We've got mugs and plates with this design in my online store.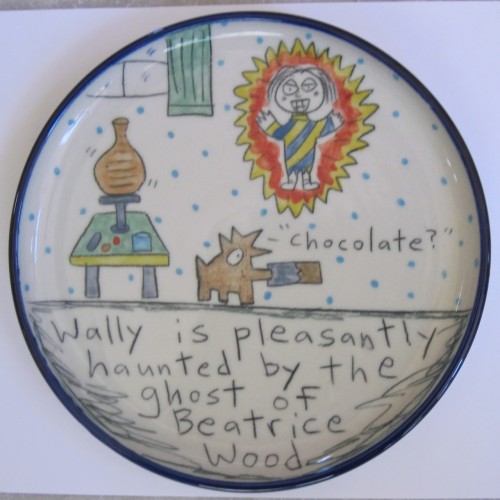 Beatrice Wood is one of the most mythic and majestic personalities in the ceramics world. As a young woman, she was a member of the Dadaists and her early life was the inspiration for the book and film, "Jules and Jim." She discovered clay in her forties and produced work in her studio in Ojai, CA up until her death at age 105.  She was also the partial inspiration for the character Rose in the film, "Titanic." Her most famous quote is, "I owe it all to chocolate and young men."   For mugs and plates with this magical spirit, visit my online store.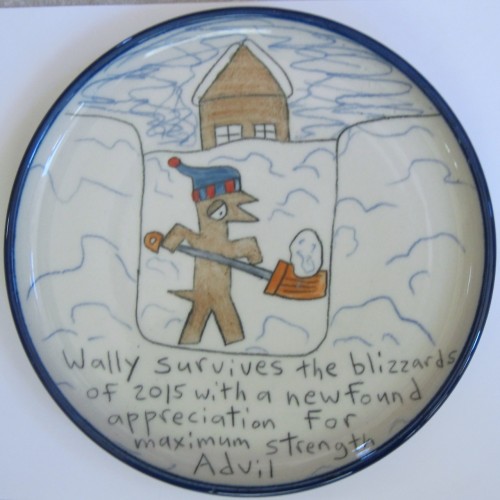 And last but not least, here's our 2015 bad weather commemorative! For all of you folks out there on the East Coast who are still digging out, get yourselves some plates and mugs to remember the magic of wild weather.  They are in the "New Items for 2015" section of my online store.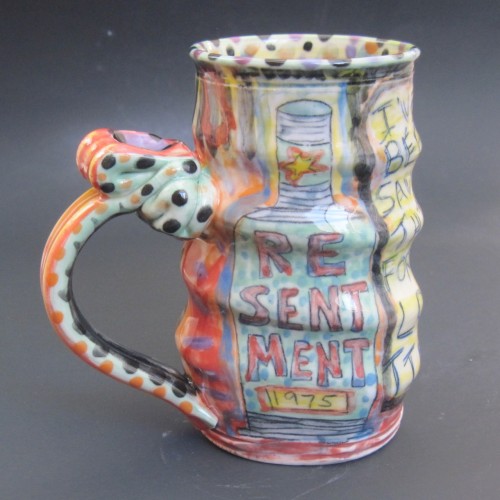 I'm still going nuts in the decorating department doing these incredibly detailed one of a kind mugs.  The ones shown here are from a series I did on large mugs.  They have titles like, "Hell Dog", "Resentment", "St. Valium" and "Brian Wilson" and are for sale for just $40.00 each in the Original Art Mugs section of my Etsy store. They took over two hours each to paint and the surfaces really show it!