It's so weird the way stuff travels around on the internet.  This weekend I noticed that my Caffeine Curve image was making the rounds on various Facebook sites.  The groups, "Food Inc." and "Give a Shit about Nature" posted it last week, and as of today almost three thousand people have shared it with their friends on Facebook.  This graphic has been all over the web for well over a decade and it's always a thrill for me to see how people respond to it.  The comments on these sites range from appreciative raves, to prickly criticism like "the shape of the graph is all wrong", to downright indignant anger over the fact that I had the audacity to make a joke about gun violence.  A Google images search yielded some really interesting finds.  My favorite discovery was a pastor in Adelaide, South Australia who related to the joke so much he posted it on his blog but changed "triple shotgun murder" to "kick the dog for no reason."  That's so funny on so many levels!  And I guess I should have realized that this would eventually happen, but there's a commercial site selling knock-off mugs and T-shirts with slight variations on the wording.  My legal team is in the process of getting them to cease and desist with this outright theft of my copyright on this joke.  More on this story as it develops.
I'm hoping that all this internet buzz will eventually lead to more traffic making its way to The Caffeine Curve mug that sells for $28.00 in my online store. I did sell one of these wheel-thrown-hand decorated mugs last weekend due to the recent Facebook posts.  And I'm going to get some more T-shirts printed up for the upcoming gift season.  These will be done in classic black, of course.  This blog is going to be the cornerstone of my campaign to get the world to realize that I'm the creator of this time-honored internet meme.  But what is the origin of this crazy graphic that is slowly becoming one of my biggest claims to fame?  It's got a really interesting humble beginning, and if it weren't for the actions of one observant co-worker at the time, "The Caffeine Curve" would have been lost forever.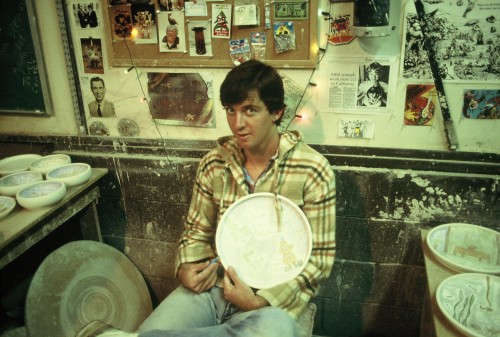 Way back in 1982, when I was renting studio space at Santa Barbara Ceramic Design and making reduction fired functional pottery without cartoons on it, I drew the very first caffeine curve graphic on the chalkboard in the lunch room.  I did it merely to get a laugh out of my co-workers and the wording on it was exactly the same as it is today.  This happened during my pre-Wally period, about a year before I ever made any pots with cartoons on them.  The caffeine curve drawing stayed on the chalkboard for a long time, and it would have been lost forever if it weren't for the instincts of then intern and now master potter James Haggerty.  James was about to clean off the chalkboard, and he respectfully came over to my corner of the studio and suggested that I write it down somewhere because it was so funny.  I took his advice, wrote it in my glaze notebook and, sure enough, about a year or so later when I was drawing jokes all over my pots, it came in really handy.  And it has been a highly popular design ever since!