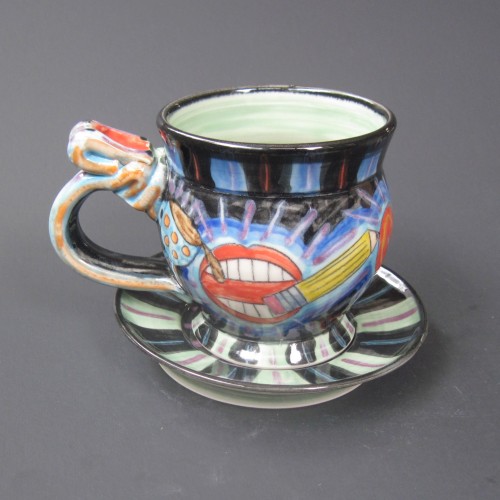 This week's post features two of my all-time best accounts: The Evergreen Gallery and The Keith Fleming Gallery.  The former has been carrying my work for over twenty years and this month I'm the featured artist in their "Mugs in May" show.  To live up to this honor, I did a series of cups and saucers in my new "highly labor intensive" style.   The themes are crazy, sweet and somewhat geared towards Mother's Day.  You can click on the thumbnails below to see larger images of these pots.  Each piece is an original and they are available along with some of my favorites from the Bowie-Pop mug series at The Evergreen Gallery.
About a year ago The Keith Fleming Gallery in Port Clinton, Ohio started carrying my work.  Summer is their busy season and we shipped them a ton (almost literally!) of pots last summer.  I think it's safe to say, the people in Port Clinton really like my work.  So this year, we came up with a pair of custom designs aimed at the local zeitgeist out there near the Canadian border.  Apparently, they have a nuclear power plant and they like to fish, so this joke pretty much wrote itself: "Wally discovers a gigantic man-eating walleye near the Davis-Besse nuke facility.  The Port Clinton tourism board is divided as to whether to publicize it or to cover it up".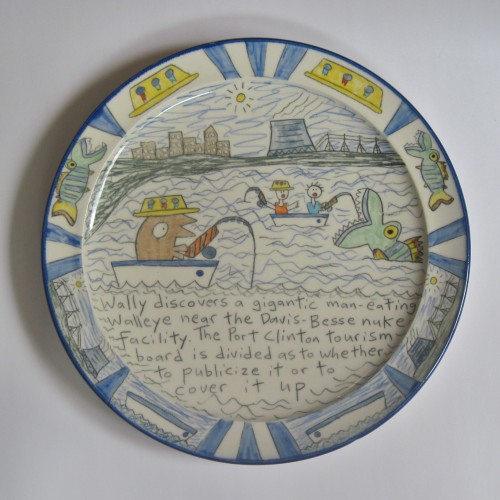 In my extensive research of Port Clinton and it's environs, I learned that there are a lot of colorful characters that live there.  On New Year's Eve, they have a Walleye drop where a giant fiberglass fish is dropped at midnight.  Keep in mind this takes place outdoors in December at midnight near the Canadian border!  And they have a local character who goes around to public events dressed as "Wylie the Walleye".  I don't know Wylie's origin story, but I do get the sense that he's a rock star in that part of Ohio: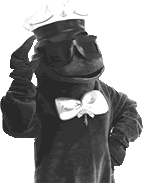 So this colorful fellow is the subject of our other Port Clinton custom design:  "Wally and Wylie the Walleye go bar hopping at Put-in-Bay.  They meet a pair of wild Canadian geese."  Apparently, Put-in-Bay is a Las Vegas-esque place where "what happens in Put-in-Bay, stays in Put-in-Bay".   Guess again!  It's been commemorated on a porcelain plate that will last forever.