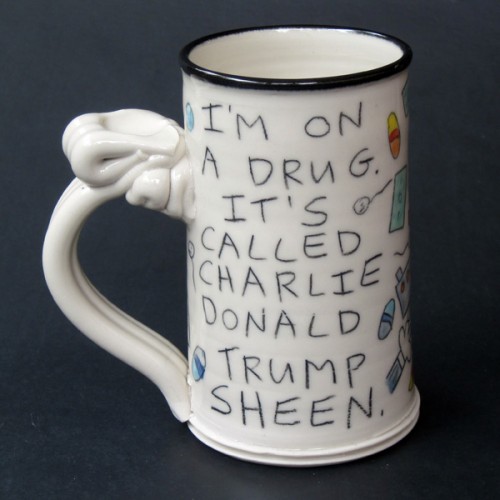 While I love doing topical humor on pottery, it does have its downside: it gets dated.  And sometimes topical humor gets dated really really fast.  But it's wonderful to own an old design and wait a long time because after a while that old joke can have a certain quaint charm.  Take a look in the wallyware collectables section of this website and you'll see some great little artifacts of pop culture (e.g. "Wally makes the mistake of using George W. Bush for his lifeline on 'Who Wants To Be A Millionaire").  Last month I pulled a number of designs off the shelves in the stock room and put them at a ridiculously low sale price: just ten dollars.  The response from my fans was good, so I just pulled some more old items and slow sellers out of my local galleries and we're having round two of the big ten dollar clearance sale.  There's a $10.00 section in Wally's Bargain Basement in my online store to make it easy for customers to see all of these sale items in the same place.  If you are shopping there, be sure and order only the amount of items we have in stock as I don't have inventory control on my retail website.  I have to take the items off the site after the sale is made.
Here's a rundown of some of my favorite items that are available as of the date of this posting (03/17/12):
"Cats and dogs and pigs and bears are cute but if you make a composite animal of all of them it's kind of creepy"
"Tell me about your drugs"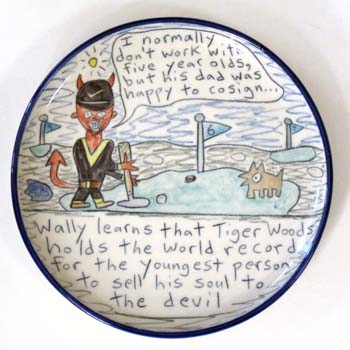 "Wally learns that Tiger Woods holds the world record for the youngest person to sell his soul to the devil" – available in mugs, plates and bowls.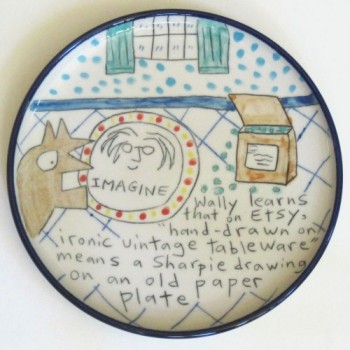 "Wally learns that on Etsy, "hand-drawn on ironic tableware" means a sharpie drawing on an old paper plate – available in mugs and a plate.
"I WAS GOING TO BUY A GUN AND KILL YOU ALL BUT I COULDN'T AFFORD ONE SO I BOUGHT THIS MUG INSTEAD"
"I'M ON A DRUG. IT'S CALLED CHARLIE DONALD TRUMP SHEEN."