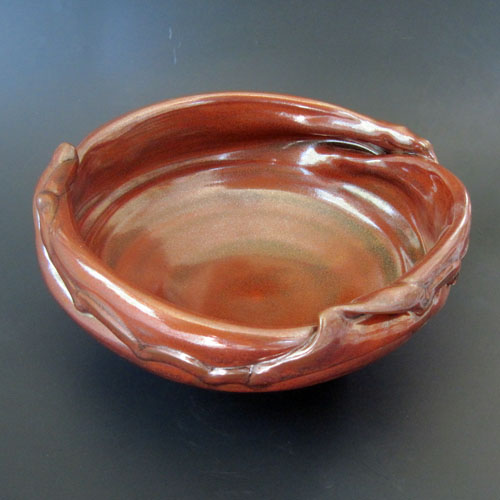 Oh man, it's the crazy season!  I still have a lot of great pots available in my online store, but the stock on hand is limited.  I'm almost out of some of our classic top-selling items such as the "Jesus is Coming" bowl and "Holy Shit! That's good coffee!", so if you have a specific gift item in mind, you might want to take a look to see if it is still available.  This year I took on a lot of new consignment accounts and we shipped some big orders to them this week.  Take a look at the "Find a Gallery" section of this site to see if there is a fine craft gallery near you that carries my work.  Here are some of the items we still have in stock here at the Wallyware headquarters.  All orders placed online will get a confirming email with the date the item is to be shipped.  We also offer "super-cheap holiday gift wrapping" for just $0.75!  It's a great way to send out a unique gift with your holiday message taped on the wrapping paper.
Here are some of the items we have in stock and ready to ship:
The 10″ diameter red floppy bowl (above) is a one of a kind and sells for $55.00.  You can find it in the "Ohata Kaki Red" section of my online store.
The "Holy Guacamole!" bowl sells for $36.00 and was designed as the companion piece to the ever-popular "Jesus is coming and he's bringing the bean dip" bowl.
Here's the best seller from last year's "deluxe funny mug" series! When I made the "When I was your age we had to make our own coffee and it tasted like crap" mug, I didn't realize its excellent birthday gift potential.
We've got dozens of Wally mugs in stock, and here are three that are still on the shelves as of Thursday morning (12/08/11): "Wally goes to a party and realizes that he is the only one who is not on anti-depressants and it makes him sad", "Wally joins the Tea Party because the brain-eating space monsters prefer the taste of smart people" and "Wally wanders into Jackson Pollock's studio".
Within the last couple of years, I've collaborated with alternative comics writers Noah Van Sciver and John Porcellino.  These guys are famous in the world of wacky drawing.  Noah was nominated for an ignatz award (the comix equivalent to an academy award!) and John P. has a huge following to his work, which he has been publishing for over twenty-five years now.  There is a section of my online store that carries a couple dozen one of a kind items by these guys.  It's REAL ART! Check it out!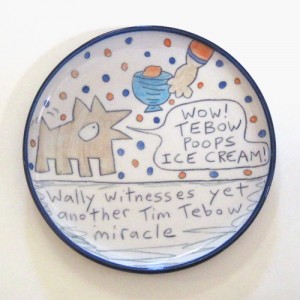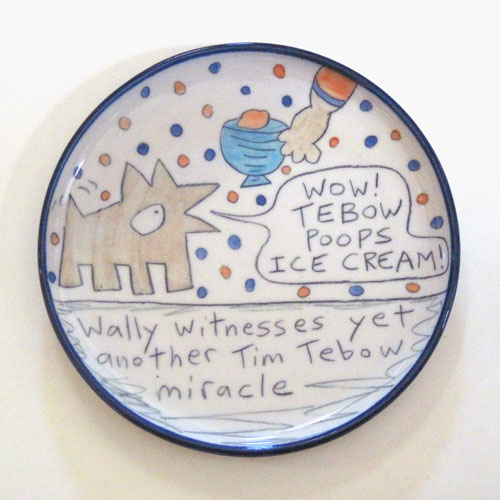 And I'm totally out of this new Tim Tebow design, but as of this morning, The Evergreen Gallery in Evergreen, Co has a couple of mugs and a couple of plates.  I should have made more!