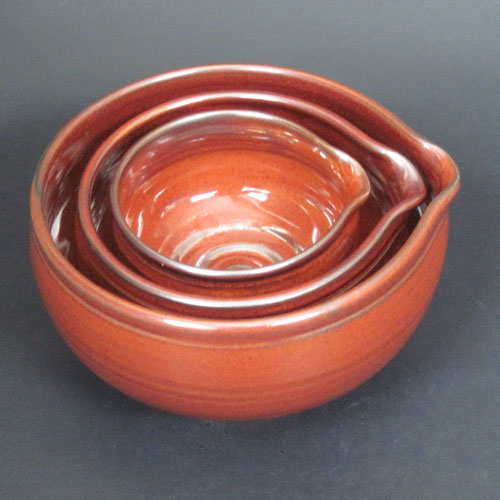 I'm unloading the last firing of the year tomorrow, and it's always fun to be shipping out lots of holiday orders to my wholesale accounts and my retail customers.  If you are still in the shopping mode (as most of us are!), here's some suggestions based on what has been selling well this year.  The ohata kaki nesting bowls (above) are one of my favorite items in this line, and they make a wonderful gift.  Last fall I made ten sets of these, but right now I only have one set left.   So if you want to buy it, you should get on over to my online store ASAP to snap it up.
Here are three of our top selling mugs right now.  "ELECTRIC CARS ARE GOOD FOR THE ENVIRONMENT BECAUSE ELECTRICITY COMES FROM MAGIC!" is really popular with engineers, eco-cynics and electric car fanciers alike.  And it's really funny.  It's a scientific fact: unicorn farts are funny.  "Holy Shit!  That's good coffee!" is available in male and female motifs, and it's still one of the designs we draw the most.  This is practically the first cartoon I ever drew on pottery and it's still a huge hit.  Go figure.  "WHEN I WAS YOUR AGE, WE HAD TO MAKE OUR OWN COFFEE AND IT TASTED LIKE CRAP." is a new twist on a similar theme, and it's turned out to be a great birthday gift for people with, how shall we say, a certain wisdom born from years of experience?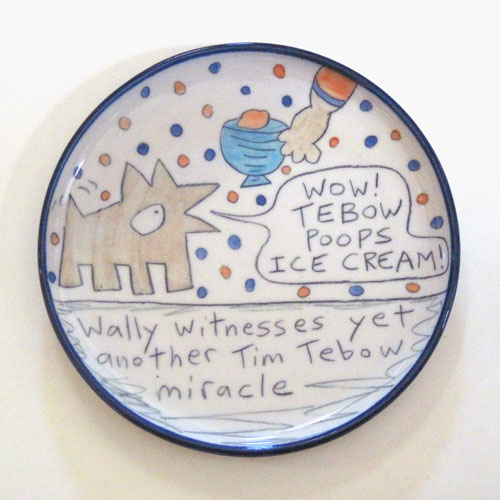 Did you happen to see the Broncos/Vikings game yesterday?  I listened to the fourth quarter on the radio and at the end of it, I was saying to myself, "Damn!  I should have made more of those Tebow pots!"  We sold all of the ones we got out of the kiln last week in the Evergreen Gallery, and I only have six mugs, two plates and two bowls coming out of the kiln tomorrow.  This will make an awesome present for that Tebow fan on your holiday gift list, so I suggest you snap one up if you still can!
"Jesus is coming and he's bringing the bean dip" has been one of my best sellers for almost ten years now, but this year we produced more than any year ever!  I'm pretty sure this is because of that crazy preacher who falsely predicted the apocalypse not once, but twice this year.  Like the other items in this post, my inventory is limited so get on over to the online store if you want to purchase one this year.