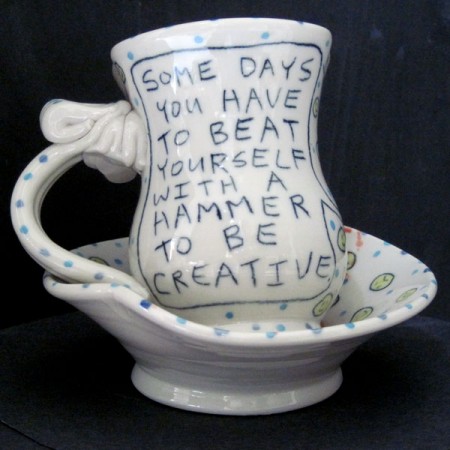 For those of you out there who are shopping for a gift for an artist, let me offer some suggestions.  I just scanned the shelves of our factory showroom and we have some darn good artist gifts in stock and ready to ship right now! Just blast on over to our online store, place an order and these lovely items will be on put a UPS truck as soon as is humanly possible.  For starters, the cup and saucer above and below is a great little item for the creative hot beverage drinker.  We have just two of them in stock and they can be found in the "deluxe funny mugs" section for just $32.00.
Next up, a time honored classic!  "Wally wanders into Jackson Pollock's studio" has been a staple in my line for over twenty years and it's still a beloved favorite.  Plates are $33.00, mugs are $28.00 and bowls are $28.00.  And yes, we have them all in stock!
And how about a Wally pin to go with that Pollock plate?  They are only $12.50!  Check out the splatter pin and the blue dot pin:
Last but not least, a design that is near and dear to my heart because it pretty much sums up why I'm compelled to make this stuff.  Do you have a potter on your gift list?