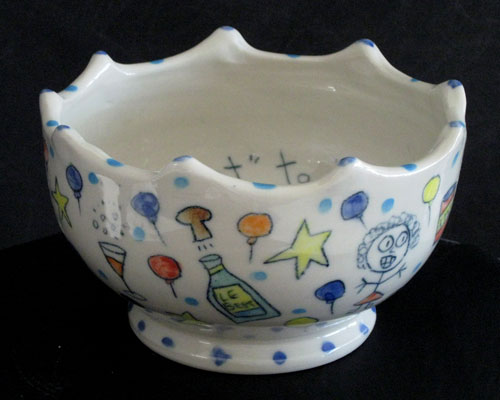 It's party time!  If you really want to knock the founder of the feast's socks off, might I suggest something from the online store here at Wallyware, Inc.?  Let's start with some inexpensive items and work our way up.  Wally pins and ornaments are a mere $12.50 and they will dazzle the heck out of just about anyone with a sense of style and/or a sense of humor.  Be sure and check out tomorrow's post for the two totally new ornaments for 2010!  They will be ready to ship on Friday, 12/03.
The "pass it on" bowl ($35.00) is one of my all-time favorites because it's one of the most original ideas I've ever had for a design.  The wording on the inside of the bowl pretty much tells the whole story: "THANKS FOR THE PARTY!  THIS BOWL IS A GIFT.  THE NEXT TIME YOU GO TO A POTLUCK, FILL IT UP WITH SOMETHING GOOD AND 'FORGET' TO TAKE IT HOME."  Pretty cool, huh?  So the way you give this one is to just leave without taking it with you.  It's a perfect passive-aggressive way to give something to someone who insists that you don't give them something!
And finally, here's a great way to initiate your party throwing friends into the world of Wally and help make their cocktail party a total blast.  Might I suggest getting either one or both of the cocktail plate sets ($66.00)?  Each set has four different Wally adventures on six inch porcelain plates.  They are really quite a deal as the labor involved in them is about the same as our eight inch plates that sell for $33.00 each.  And how about this?  If you buy both sets of cocktail plates, I'll add a bonus Wally pin or ornament for free!