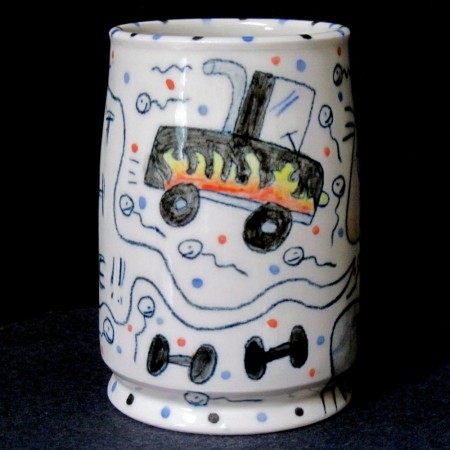 Yesterday I featured coffee mugs for wild women, so today I'll show you what we've got for crazy guys.  All of these items are all available right now in our online store.  The above mug is, in my humble opinion, just about the best coffee mug I've ever created in my entire life.  I only made two of them, and they haven't sold yet, but GOD DAMN IT! This design is the pinnacle of my creative genius.
Continuing along in our tour of absolutely brilliant manly mug designs that haven't sold very well, check out this gem.  It was inspired by the Stan Ridgway song, "Jack Talked".
OK… how about something a little more mainstream and accessible?  The "Holy Shit! That's good coffee!" mug has been dazzling scores of dudes for decades.  It's our number one top seller ever.
And here's a Wally joke that is both popular and brilliant.
Last but not least, one of the nicest new deluxe funny mugs.  Check out the Z?'s stamped in the clay!