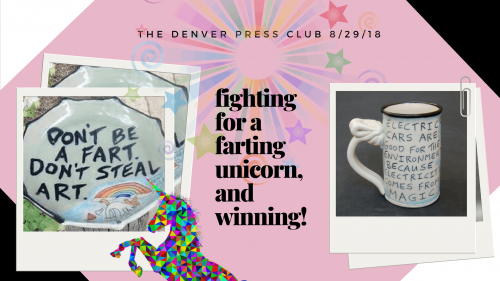 It's been almost two months since my last blog post where I announced that we reached an agreement with Tesla Motors and my copyright issue over the farting unicorn graphic was happily resolved. Tweeted by Elon Musk, that post got 53,000 visits the day it was posted. Since then, my assistants and I have been cranking out A LOT OF POTS and we're almost caught up on all the orders I received from the June-July media blitz. On August 29th, I was part of a panel discussion at The Denver Press Club on copyright issues and art. It was great fun to discuss this topic with Tim Atkinson (lawyer), Lauri Murphy (artist/educator) and John Lebya (photojournalist). This week my interview with Paul Blais on The Potter's Cast podcast goes up on Tuesday. I'm a huge fan of Paul's podcast. His mission is to help those of us in the clay community refine our business skills. It was such an honor to be on his show. We discussed my copyright issue with Tesla and my forty years as a professional potter.
The past four months have been a productive, exciting and wild time and my only complaint is that I wish I'd had more time this summer to produce new work and pitch it to my old fans and new customers. This Tesla copyright adventure has been a real turning point in my career and it has totally rejuvenated my spirit as an artist. Now that all the magic unicorn dust is settling, I'm making plans to try a lot of new ideas and to not hold back on my ambitious creative ideas.  This week I'm ordering a new electric kiln so I can launch into the ceramic decal process.  It's going to take a while to get this off the ground but look for new work in this style to come out in November.
I did get a couple of new mug designs out of my last firing and they are available in my online store. "It's my birthday and I don't have to be nice to you." was inspired by punk song I wrote in a weird dream I had while on vacation in Croatia a couple of years ago. You can buy it in my online store.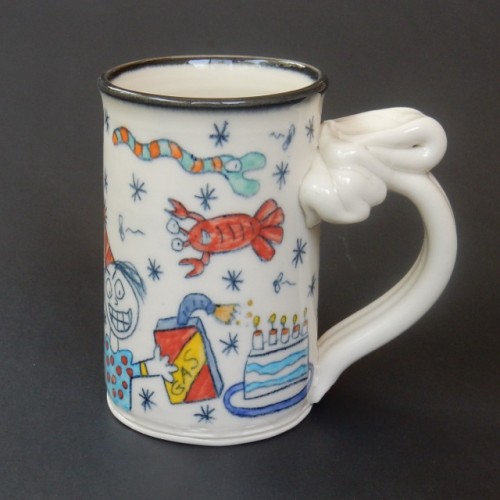 And for all you unicorn fans, we've got a new art mug that delves into the dark side of unicorn folklore.  This is a limited edition art mug and we have just two left in stock. Jump on over to my online store to catch one of these: