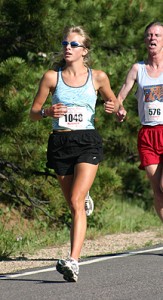 This piece was published in Colorado Runner in 2006
I was standing at the starting line of the Fort Collins Marathon last May when these two serious runners were talking about a race one of them had run. "Did you get chicked?" the first one said. "Yeah", said the other, "at least three were in front of me, maybe more." Even though I had never heard this strange colloquialism, I knew exactly what they meant: they were talking about getting beat by a girl.
As we all took off running down Poudre Canyon, I marveled at the Neanderthal poetry of this hilarious expression and I realized just how much it rang true with my inner caveman. A few years back, I was keeping a personal tally of my streak of over a dozen races without getting trounced by the opposite sex. There was something cool about going for almost two years without "getting chicked."
Between the fifteen and twenty mile marks at Fort Collins, I got passed by a few runners and, you guessed it, one of them was Heather Hunt, the lead female runner on her way to a new course record. I stayed with her for a little while and offered her encouragement, but I couldn't hang on to her pace. She totally chicked me.
The final six miles of the race turned out to be an epic effort for me. I moved from thirteenth place to seventh place overall. With less than a mile to go, I passed the lead runner in my age group and I won my division, but I couldn't catch up with Heather. It was one of the strongest final six miles of a marathon I'd ever run, and I can't help but wonder if the goal of getting unchicked was a factor.
I think back to my first marathon and I see a common theme. I was a freshman in high school at the end of a lackluster year as one of the mid-level runners on the freshman squad. At the end of track season, I ran an astonishing 3:14 marathon on the brutally hilly Palos Verdes Marathon course, and I beat all of our varsity runners. So what was the first thing my mom said when I finished the marathon? "You aren't going to believe it!" she exclaimed, "This little eleven year old girl finished two minutes ahead of you!" I got chicked by a seventh grader named Mary Decker.
One of the biggest crowd pleasers of the Pearl Street Mile races in Boulder is the "Beauty and The Beast" wave. It's the one for men over fifty and women over forty. Last year Benji Durden won it, but seven out of the top ten finishers were women. I look forward to the summer of 2007, when I'll be eligible for this race. I'll be on the team with the eggshell-thin egos.
Note: the above photo was taken at the 4K mark of the Evergreen Freedom Run 5K on July 4, 2005, just as Tom is about to pass the lead female runner.