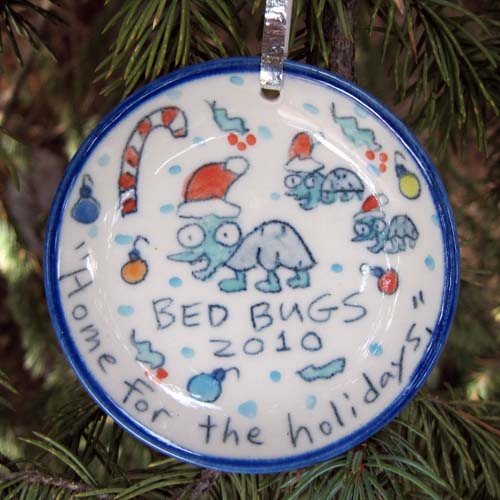 It's that time of year again!  It's time for you, my customers to show us what kind of jokes you've got and what weird kind of ornament you want to hang on your tree this Christmas.  It's been a good year for weird stories in the news, so there is lots of material out there for us to work with.  As always, the person or persons who come up with the best design(s) will win an ornament with their design on it and the bragging rights to having come up with this year's winning design.  Here are a few guidelines for coming up with a winning entry:
Keep it simple!  I need to be able to hand-draw this design on a two inch diameter ceramic ornament.  Elaborate designs are too hard to reproduce.
Try to tie in the holiday theme.  The Balloon Boy joke below works so wonderfully well because it brings in the holiday verbiage.
Make it something that will just get better as the years go on.  What current event do you want to remember every year as you trim your holiday tree?
HOW TO ENTER: Simply email us your drawings, ideas, etc. to tom@wallyware.biz
DEADLINE: Friday, November 20th!  We'll announce the winners here and in an email on Wednesday, November 25th.
Want to get some inspiration for this project?  Take a look at my line of ornaments (on sale for just $13.50) in my online store.