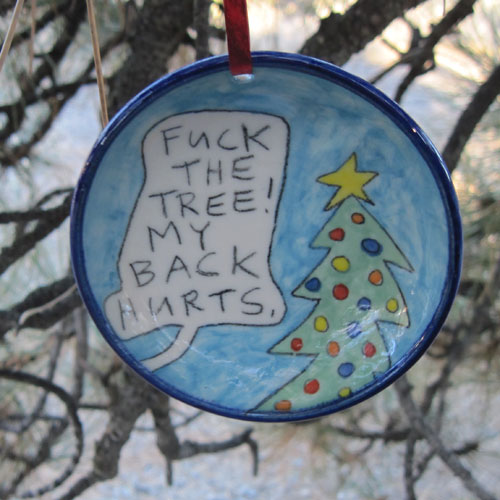 Well, it was a tough year to pick the top entry in our yearly ornament design contest, so I took my wife and oldest daughter out to dinner and sprung on them the job of helping me decide on the top honor for 2013.  They took on the job admirably and with three people we had the perfect number of judges to avoid any ties of the votes.  And fortunately, it was a unanimous decision for the winner, but let's go through some honorable mentions first:
-Kudos to last year's winner, Pam Hamilton, for sending us a flurry of decent material.  My favorite of these was "Snowden leaks Wally's famous dog biscuit recipe."
-A big "YEOW!!!" to Bruce Block for his wonderfully tasteless and unprintable joke riffing on xmas balls and neutered pets.
-And much appreciation to Jamie Gould for sending in two great sketches in her bid for the #1 spot.  Check out her lovely depiction of the death of Miley Cyrus under a Christmas tree: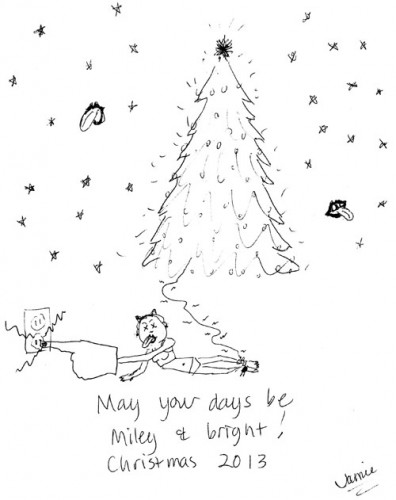 And now the drum roll for the top spot….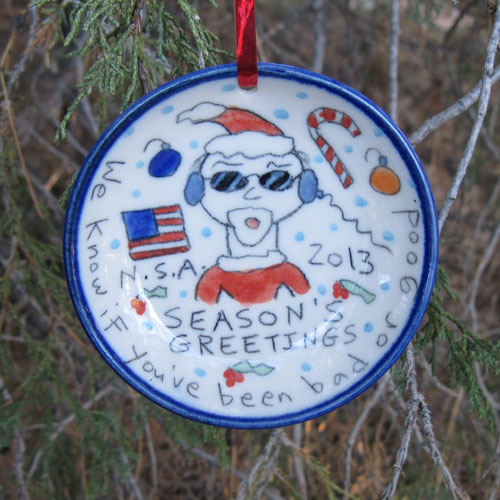 Here it is!  This year's winner of the 2013 Holiday Ornament Design Contest is a timely little piece that riffs on the fact that the National Security Administration just replaced Santa Claus in the spying on our private lives department.  So who thought of this timely, salable and easy to draw design?  None other than my assistant, Kelly Clements!  That's right, this contest didn't have any silly rules about employees or family members not being eligible for the grand prize.  Seriously, a big "Thanks!" to everyone who entered and look forward to your crazy ideas coming my way next year.
If you want to purchase this new NSA ornament, the new "FUCK THE TREE! MY BACK HURTS." ornament, all the other ornament designs we carry, or anything else in my line, hop on over to my online store.  Our next firing comes out on December 5th so there's still time for us to make just about anything you want for Christmas.