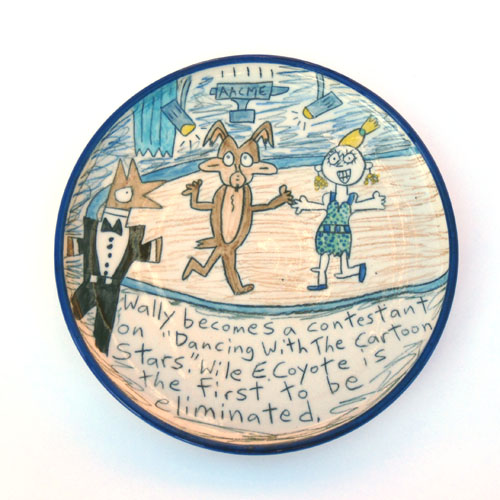 Wally's latest adventure has a good story behind it.  My wife and I were out for dinner with friends and one of the women in our group told us she's always wanted to come up with a Wally cartoon idea so she could get a free mug and the bragging rights for having created another chapter in Wally's long and illustrious life.  For those of you who don't know, anyone who comes up with the basic design for one of my pots gets a free mug for their efforts.  She didn't have any joke ideas, but she did ask me, "What kind of joke would you come up with for 'Dancing With The Stars"?  Off the top of my head, I came up this Wile E. Coyote joke, so she's getting a free mug for her instrumental effort as a muse.  But if you want this cartoon on a mug, plate or bowl, you're going to have to buy it with your credit card at my online store.
This new mug design kind of came to me in a flash early one morning.  I was trying to come up with a new salsa bowl design (see below) and it wasn't working out.  I had a doodle of this crazy looking guy in my sketch book and when I put the words, "Listen to your higher power!" next to him, the whole idea for the lizard people inside the comet kind of hit me in an instant.  It was a real joy to come up with the surrounding imagery, and I think this is one of my smartest designs in a long time.  Ten minutes after I came up with this idea, I won the "Much too early for a question question" trivia contest on Bret Saunders' show on KBCO.  The prize?  Two tickets to Cirque Du Soleil!  It was a good morning, for sure.  Thank you, oh higher power of luck and creativity!!!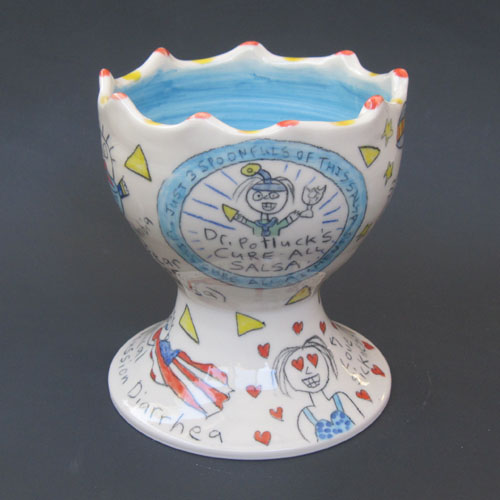 I threw a dozen of these pedestal bowls over a month ago and two kiln loads went by before I came up with the right concept for them.  I knew I wanted the bowl to hold salsa but the "hook" was eluding me.  Finally, I thought about how people use my bowls at parties and how parties are a place to get away from all the crap that is bothering you.  So when the idea of "Cure-All Salsa" finally came to me, the side jokes on this bowl pretty much invented themselves.  My assistant and I brainstormed this concept for about an hour, and the bowl design was finished with ease.  This morning I sent out an email pitching these pots to my wholesale accounts and I've already sold a dozen of the salsa bowls!  We'll have more out of the kiln on April 1st, so free free to purchase them now at my online store.