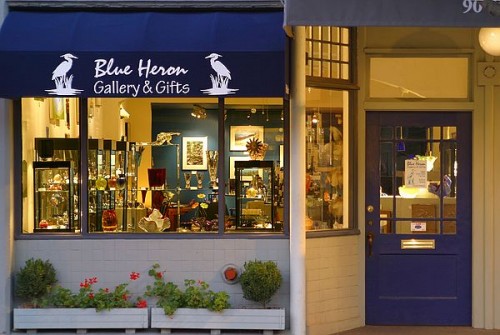 Good news!  We just had our biggest shipping week of the year so far and there are five new venues to add to the growing empire of fine craft galleries that carry my work. It's always great to get new accounts and I'm excited about the big orders we just shipped out to these stores.  Here's a roundup of Wally's new digs:
Blue Heron Gallery and Gifts – Located downtown in Ashland, Oregon, Blue Heron features an eclectic mix of styles and media from more than seventy artists including an impressive collection of art glass.  Ashland is the home of the world-renowned Oregon Shakespeare Festival, so Wally's possibilities with Shakespeare jokes are endless:  "A coffee mug! A coffee mug! My kingdom for a coffee mug." Me thinks thou dost pun too much….
Art for the Soul – This is a pair of stores located in Laguna Beach, CA and Balboa Island, CA.  The Laguna Beach venue has been carrying my work for years, and now the Balboa Island gallery will have a display of over forty pieces on their shelves.  Their selection of fine craft emphasizes bright colors and fun.  Perfect!
Crow Valley Pottery – Established in 1959, this working pottery studio/gallery is in the breathtakingly beautiful locale of Orcas Island in the state of Washington.  This is truly one of the prettiest places on earth and Wally gets to go there.  I'm jealous.
Arts A Poppin – Wally makes his Indiana debut in this unique gift shop that is located in the heart of the Art & Theatre district of Indianapolis.  A.A.P. features a great selection of jewelry and clothing with a nice whimsical vibe.  And just one week from today, their shelves will have over fifty of my pots that are sure to take that whimsical vibe up a notch!
Mutt and Joe – The owners of this establishment describe it as "a cozy neighborhood dog wash and coffee bar dedicated to caring for you and your dog in an enjoyable environment".  Dogs and coffee? Man!  This place and my pots are a marriage made in heaven! I urge anyone out there in the state of Maryland to drop by and see the coffee bar that cleans your dog.  They now have an impressive display of my mugs, and we even did a custom design for them.  Check it out: