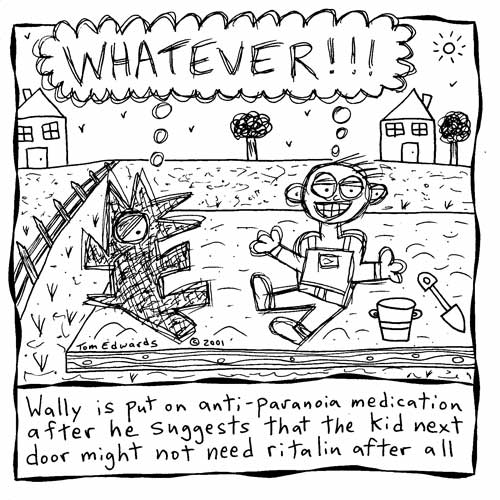 Here's a joke I came up with ten years ago when "Wally" was a weekly cartoon in the Canyon Courier here in Evergreen, CO.  It's a bit of a soap-box message, but I really like the way it is drawn and the meaning is clear and to the point.  I received an email this week from the prestigious Bonkers Institute for Nearly Genuine Research asking if they could have a fresh link to this cartoon as my old website used to feature it.  You bet, Dr. Bonkers!  So I think I'll reissue this classic design next month.  They will be available on mugs, plates and bowls in my online store the second week in September.
For the past month I've been sending out weekly emails with goofy specials for my fans.  Some of these items are still available in "Wally's Bargain Basement" in my online store, and this week I'm giving a FREE CRAZY MUSIC CD to everyone who places an order.  But quite possibly the best special of the month expires this Sunday, 08/28/11.  If you order any custom item, you can get it without paying the $5.00 – $8.00 customizing fee!  Just go to the "Custom Orders" section of this website to get some pointers on how to place an order.  It's pretty simple and a great way to create something really unique.  We received a wonderful custom order yesterday from a very talented ten year old who lives in North Carolina.  Kaylee sent in this superb drawing of a coffee-crazed pig, to be recreated on a mug: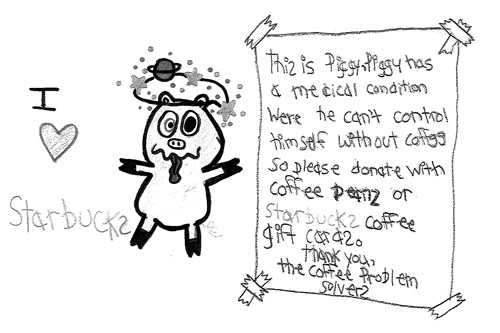 And last but not least, we rolled out a kiln yesterday with a couple of the "Jesus is coming and he's bringing the bean dip" chip and dip ensembles.  I've made these over the years and since the Jesus bowl has been selling better than ever this year (should we be worried?), I figured it would be good to make this item available to all now.  The rim of the plate underneath measures twelve inches in diameter and the set looks great piled high with tortilla chips and filled with salsa.  What better way to celebrate the end of the world as we know it?  The set sells for $110.00 and is available in my online store.