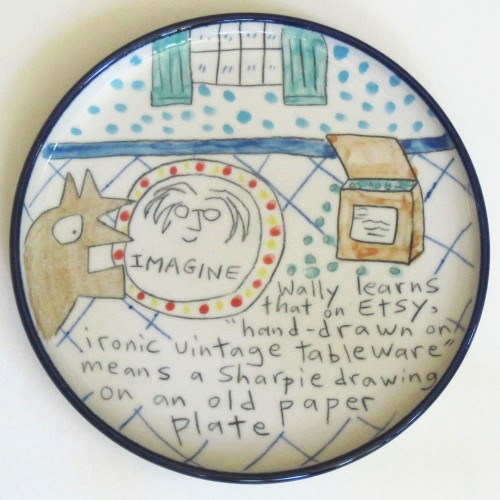 I've had a shop on Etsy for over two years now, and I have mixed feelings about this DIY retail site for craftspeople.  .  While it's great that there is a place for artists to sell their wares online with ease and low overhead, the craft snob inside of me is appalled at some of the riff raff that inhabit this site.  Etsy has been a good place for new customers to discover my work, but it's been hard for me to get much visibility there .  I don't like the way Etsy is so demanding of its artists.  To be an effective seller, you need to join teams, registries, and circles.  To be featured up front on the site, you need to buy ads, make connections and write "how to" blogs for the Etsy machine.  My work is labor intensive enough as it is, so spending more time at these pursuits is low on my list of priorities.  But I do scan the daily Etsy emails and I've noticed a growing trend on this site: vintage items.  The word "vintage" is a euphemism for "old things the seller didn't make".  That's right, a significant piece of the Etsy pie is the kind of stuff you find in a thrift stores.  One of the weirdest items I found is part craft, part junk: a set of thrift store bowls with the hairdos of The Rolling Stones painted on them.  I'm not kidding!  Take a look: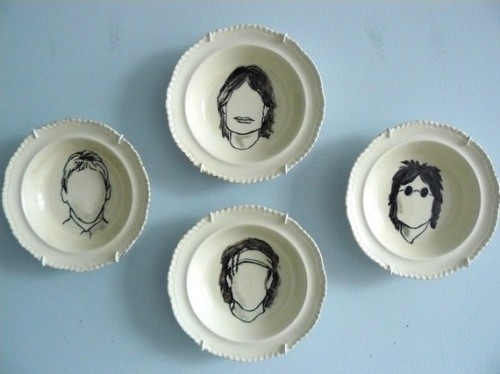 Oh yeah…. the kids will fight every morning over who gets to eat their Lucky Charms out of the bowl with Keith Richards' mop.  I must credit these rock and roll hairdo bowls for inspiring my newest Wally design, "Wally learns that on Etsy, 'hand-drawn on ironic vintage tableware' means a sharpie drawing on an old paper plate".  This plate is only available at my Etsy store.  I was hoping that news of this plate would spread like wildfire through the Etsy community and sales would be brisk, but so far all I've gotten is a couple of appreciative emails from fans.  Maybe I should buy an ad on Etsy to promote it.  Sigh.
So here I am trashing a fellow craftsperson's  rock and roll pots, and in the same breath I'll crow about my latest artwork: the Iggy Pop/David Bowie mug series!  I only managed to get eight of them decorated in the last firing cycle, but I really like the way they turned out.  The method for these mugs was to take a lyric from one of Iggy's or David's songs, and use these words as a take-off point for the design.  It's terribly fun to paint pots like this just for the heck of it, but they are really time consuming to produce.  I should have more of them made for my next firing on August 7th.   These ones aren't for sale as of yet, and I'll probably put them all in my online store next month when the series is completed.  Take a look!