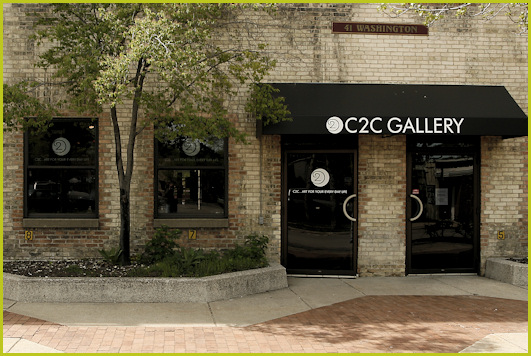 Good news! Our shipping department has been burning through the bubblewrap lately and we've shipped out a lot of pots to some great new fine craft galleries.  I'm always impressed with the caliber of stores that carry my work, and these new accounts are some of the best of the best.  To see a complete map of the outlets that currently carry my work, take a look at the "Find a Gallery" page on this website.  Here's a brief roundup of the newbies:
The C2C Gallery in Grand Haven, MI just opened it's doors on May 27, 2011. Created by artist/potter Cyndi Casemier it features a clay-centric selection of fine craft as well as periodic live performances by local musicians.  We shipped them over one hundred pieces, including some of the new ohata red pots which are selling quite well.  A second shipment was sent to them just a week after the grand opening.  And they pay their bills on time, too!  I like these guys already.
Poppy in Columbia, MO has been dazzling fine craft buyers for over 27 years and Wally is thrilled to be their newest catch.  They have an impressive selection of sumptuous jewelry as well as many big names in American craft.  Last summer Poppy was named a finalist in the 2010 Retailer Excellence Awards competition held during the NY International Gift Fair for "visual merchandising" and they won the top honor!
Imagine in Santa Barbara, CA is near and dear to my heart because Santa Barbara is birthplace of Wally!  I was so happy to get this account and even more pleased to get a re-order of fifteen "Jesus is coming" bowls less than a month after their first order.  Hallelujah!
Quirks of Art in Williamsburg, VA looks like it could be the perfect venue for my oddball pots.  It originally opened in 1997 under the name of "Kinks, Quirks and Caffeine" and I've been bugging them to carry my work ever since I saw that name years ago.  It's a potential match made in heaven, right?  I really didn't know much about them except that they have a cool name, they've won a whole bunch of amazing awards (Niche, American Style, etc.), and the stuff on their website looks awesome.  They posted some pics of my work on Facebook last week (before I had shipped them their first order!) and apparently people are already walking in the door asking for my work.  It's on its way…!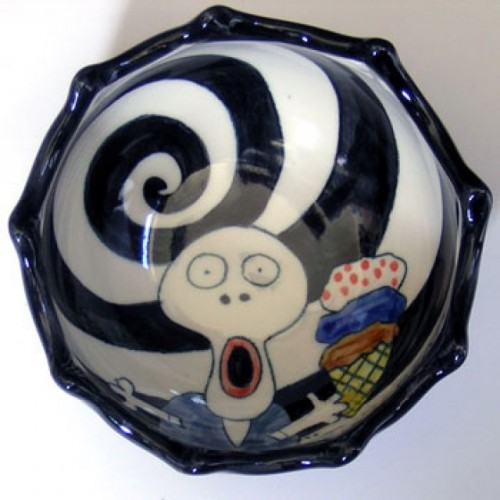 OK… so that's the business news.  Now for the art news.  I had been throwing my standard production pots all week and it was the end of the throwing cycle and I hadn't come up with any new shapes.  For a long time I've had this idea to do a series based solely on rock lyrics, so I decided to do a series that will test the waters for this concept.  I started by putting a selection of David Bowie and Iggy Pop songs on shuffle play while I threw the pots: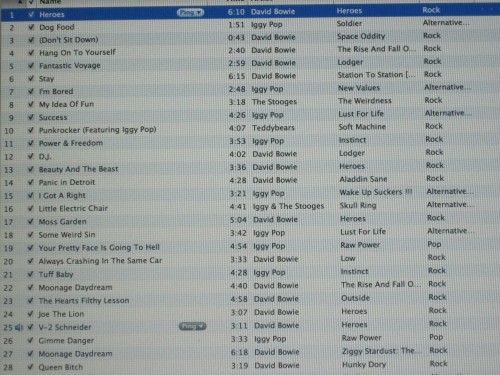 Then I threw thirty-three mugs kind of quickly, not thinking too much about the shapes.  the point was to have fun with the process of throwing: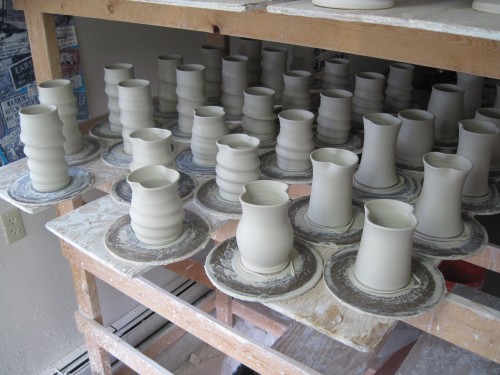 While I was throwing and the music was playing, I jotted down lyrics that might make good take-off points for the design work on the mugs: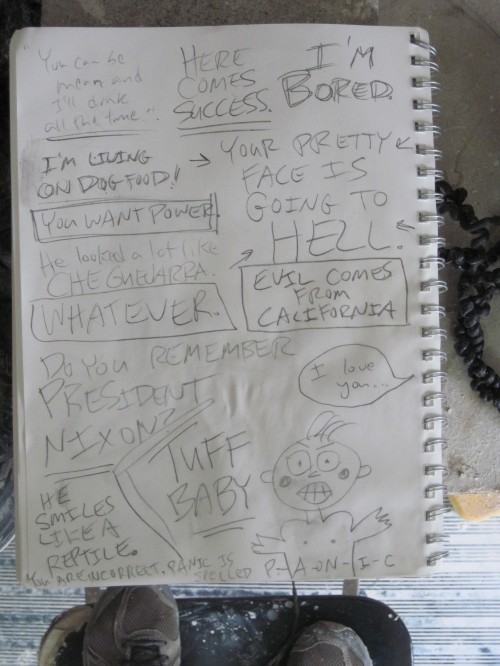 The next day, the pots were paddled, stamped, trimmed and handled: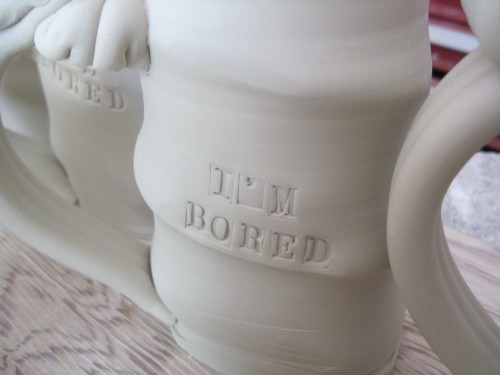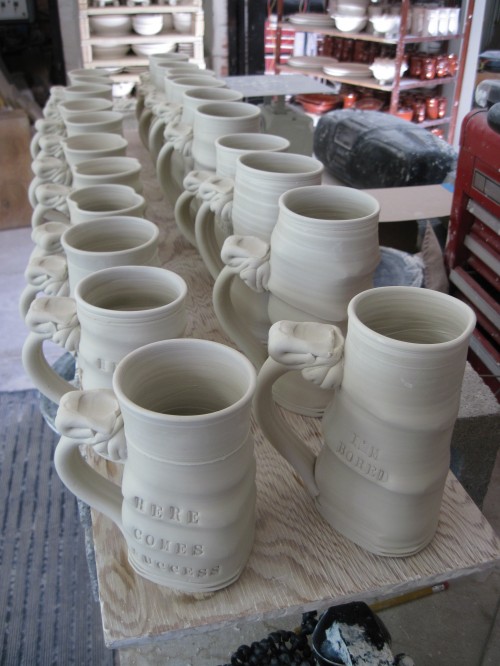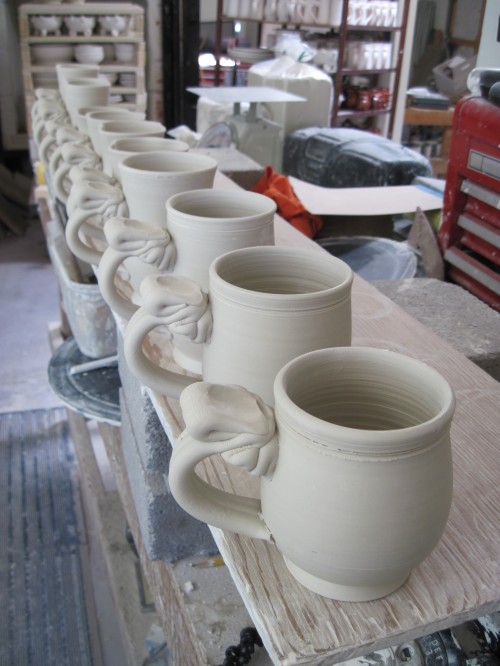 I'll admit it, this project has the potential to be totally self-indulgent and lame.  But I like the idea of forcing myself to do some new design work that is fast and fun and weird.  My assistant is on vacation for two months now and I'll be doing all the painting on this next decorating cycle. I'm dreading it because I'm not nearly as good at painting as she is.  So these pots will be a break from the standard production line and an opportunity to try some new things with the graphic design elements.  We'll see!  Come back in a few weeks to see how it's going….