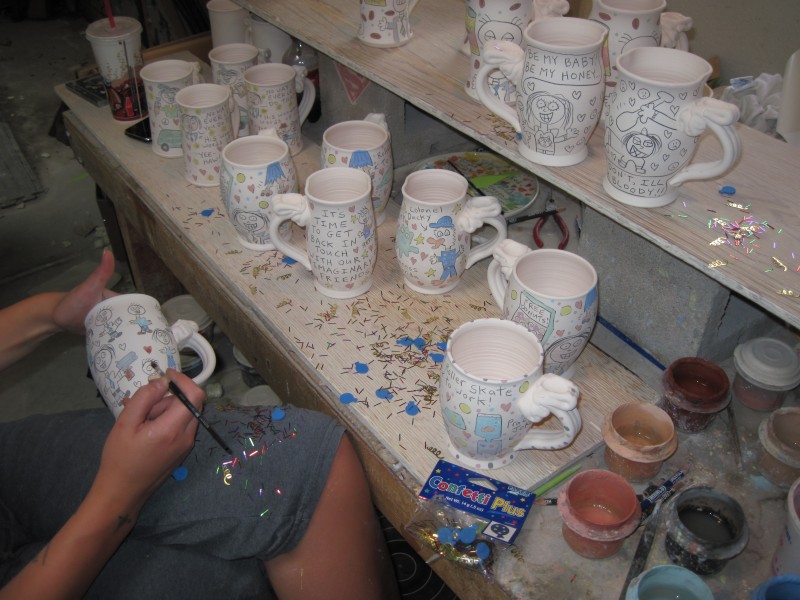 Here's a nice little window to the creative process here at my studio.  At the end of the day when we painted these prototype mugs, I broke out the "Confetti Plus" to celebrate the event (and make a nice shot for this blog post).    It's always fun coming up with new designs, and I think these ones have some really nice ideas happening. You may purchase them at my online store.
"IT'S FUN FRIDAY!!" – Created on a Friday morning, I think this mug could start a revolution in the American workplace.  Roller skating to work, free donuts, putting booze in your coffee and playing practical jokes are just the things to bring this country back to greatness.
"WE GET MESSED UP BY FORCES THAT WE JUST DON'T UNDERSTAND" – This line comes from the song, "Tell Me About Your Drugs" by Robyn Hitchcock.  This lyric led to a nice musing on the range of things that cause us problems.  I love the way these images are a mix of weird, dark, funny and mysterious.
"BE MY BABY, BE MY HONEY… IF YOU DON'T, I'LL BEAT YOU BLOODY!!" – Another great lyric here, this time from my favorite riot grrrl band, Lust-Cats of the Gutters.  They just got a nice write-up in Bust magazine.  Check it out.
"IT'S TIME TO GET BACK IN TOUCH WITH OUR IMAGINARY FRIENDS" – I really like this one, especially the character, "Colonel Ducky".  I'm thinking he's a caustic revolutionary war hero who drinks too many mint juleps and ruefully laments the decline of The South.  For the record, I never had an imaginary friend as a child.