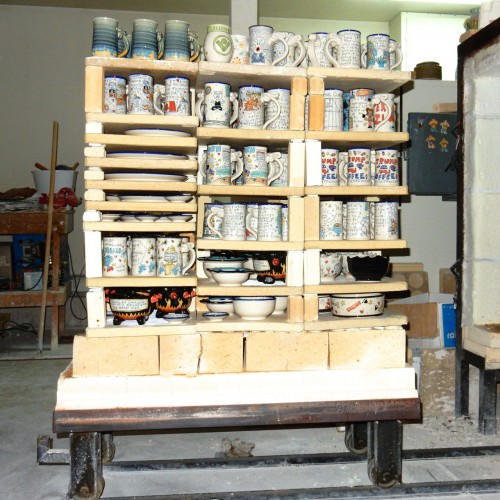 The last firing of the year has been rolled out, every single pending order has been shipped, and we've still got a really good supply of work for all of you end of the season shoppers.  Here's a nice little overview of some of the items we have in stock right now. Click on the links below to jump on over and see them in my online store.
Funny Bowls: We have a really good selection of most of our top sellers right now: Jesus is coming and he's bringing the bean dip, feed the !#*@!!! cat, already, the pass it on party bowl, bad cat, crazy cat, psycho killer, super cat, hell cat, the LSD bowl, the I SCREAM bowl, the cocktail nuts are history bowl, the wonderful bowl, the double dippers bowl, and a smattering of others.
Funny Mugs: There are a ton of designs in this department, and we've got a pretty good selection of many of them sitting on the shelf ready to ship. Favorites in stock include: Holy shit! That's good coffee!, It's decaf! The Caffeine Curve, my cat is a psycho killer, why I like cats, why I like babies, the cool people club, I passed my drug test, why we like dad, I can't stop thinning about bees, I think I'll feel better after I take over the world, big foot's love child, the strongest coffee on earth, and more.
Political mugs: Oh man, this category is the big winner of 2017 for my business. We made so many of these pots this year! And I still have a few left but you better get on over to my store ASAP because they are going fast.  As of 12/07 we still have just a few of these designs: Trump Coffee, move to Canada, resist the jerk, political detox, and the runaway hit, "Am I the only person who thinks about killing Donald Trump?!!"
Christmas Ornaments: Gosh, these little wheel-thrown gems are a real treat on the tree or as an adornment to a package under the tree.  Here's what's left: nationalize elf care, fuck the tree, fun in dysfunctional, zombie pirate xmas and Happy Wallydays!
Wally pots: We've got a pretty good selection of your favorites right now on mugs, plates and bowls. There are just too many designs to even start with a list of what's available. Wally is the ultimate collectable hand draw cartoon on wheel-thrown pots!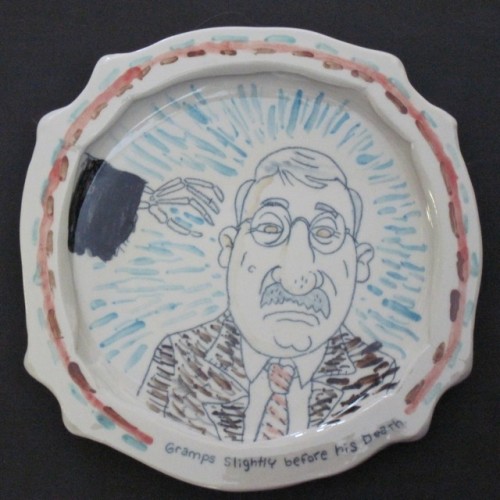 The Famous Cartoonist Guest Artist Series: About ten years ago, I threw some pots for two now-famous cartoonists: John Porcellino and Noah Van Sciver.  We sold some of the pots back then but eventually these pieces just ended up gathering dust in my studio. Now that these guys are famous, it's time to sell this stuff to collectors.
Braxton Phibes' Pottery: This cryptic dude did some work out of my studio this year, but right now he's on hiatus doing volunteer work at a lemur rescue camp in Malaysia. Before he left, he issued instructions for me to take his pots out of his Etsy store ("It's getting way too corporate, man.") and sell it all through my new sales platform. I'm adding as much stuff as I can right now, and in another week we should have a lot more in there and a major announcement.  Stay tuned!
And last but not least, check out this new Seattle supergroup that my daughter Robin is in!  Who is She is a side project for Julia Shapiro of Chastity Belt, Bree McKenna of Tacocat and Lisa Prank (that's Robin's a.k.a.). The name of their album is "Seattle Gossip" and their songs are all about friendship, classified ads and time travel.