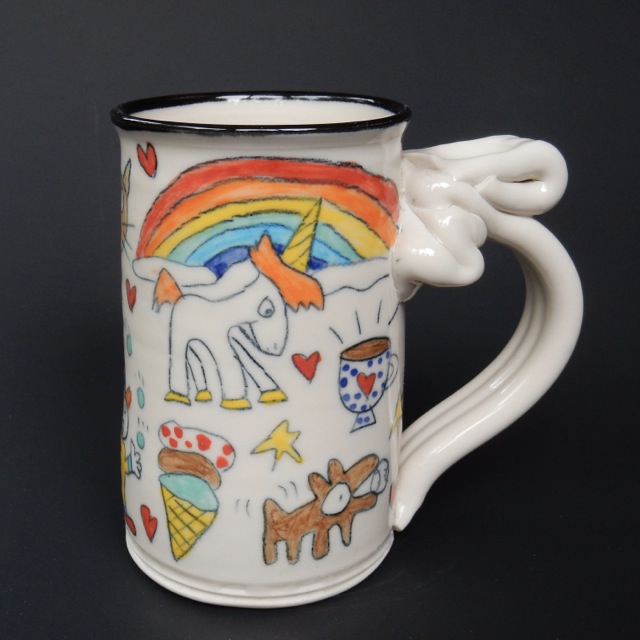 I rolled out a really good firing yesterday and it had a record number of mugs in it: over 180!  I just shipped out all of the backordered Electric Car Magic mugs for the followers of Elon Musk and it felt good to get those pots out the door. For your perusal today we have some crazy new items.  The mug above has the words, "DON'T TALK TO ME ABOUT POLITICS! I'M ON A POLITICAL THOUGHT DETOX RIGHT NOW." Timely, huh?  You can buy it in my online store right now.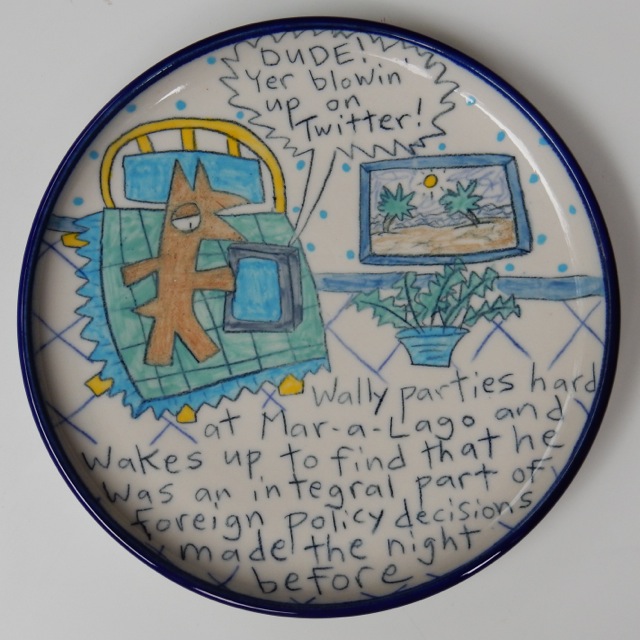 Yay Wally! Here's his latest foray into The Trump Era, a morning after nightmare where untold damage to the fabric of world history has been wrought by the my imaginary dog friend.  When Trump got elected, I told myself I just couldn't do fluffy jokes about this crazy guy in the White House, but here I am, normalizing the most dangerous man in history.  What the hell…. let's see if it sells in mugs, plates and bowls in my online store.
Whoa! What's this stuff?!!!  I'll tell you.  I did some weird "cartoon pots with Braxton glazes" experiments in this firing and they got mixed results.  I don't think I'll be going in this direction again. But these precious little one (or two) of a kind items are available in my online store and you could own them if you rush on over and get them!